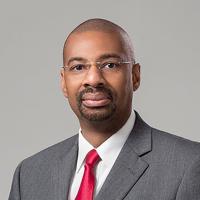 January 13 – New Website, Directory of Black-Owned Businesses from the Fort Wayne Black Chamber of Commerce | fwbusiness
The Fort Wayne Black Chamber of Commerce is looking to expand and plans to create a new website and directory of Black-owned businesses.
Clifford Clarke, chairman of the Fort Wayne Black Chamber of Commerce and owner of C2 IT Advisors, spoke to members of the Rotary Club of Fort Wayne Jan. 11 about what's coming from the chamber.
Founded in 2012, the chamber has its office at 1832 Paulding Road. Its members are typically black business owners and disadvantaged small business owners, but membership is open to all. Currently, it has less than 100 members. Membership fees listed on its website are $500 for companies with 50 or more employees; $200 for those with less than 50 employees or $100 for an individual.
The chamber offers a variety of programs focusing on financial health, mental health, access to capital, and understanding local government.
One program, Club 720, helps people get a credit score of 700 or better. This allows the cardholder to get lower interest rates.
The chamber plans to release an updated directory of Black-owned and operated businesses in Fort Wayne later this month.
Because the chamber used a grant from the Community Foundation of Greater Fort Wayne and received help from SEED, as well as advertising dollars, Clarke said the group hopes to make the directory available for free.
Copies will go first to those featured in the publication as well as advertisers.
The chamber is preparing a first print run of a few hundred copies. The hope is that once people see it, more business owners will want to be listed, so it's expected to have a second airing mid-year.
The chamber is also seeking to relaunch its BUILD program, which promotes the training of skilled labour.
The chamber seeks to create a more diverse and energetic community, aspects of which attract new people to a place, Clarke said.
Working with Greater Fort Wayne, the Greater Fort Wayne Hispanic Chamber of Commerce, and the New Allen Alliance, the Black Chamber seeks to build on Fort Wayne's reputation and go beyond being a place to live in low cost.
He, along with others, is also partnering with Fort Wayne UNITED on the United Front initiative that stemmed from last year's social unrest following the death of George Floyd, a black suspect who died in police custody in Minneapolis. They host educational sessions on topics such as stereotypical threat, privilege and power, and organizational bias. The next event includes keynote speeches at 9 a.m. and 3 p.m. on January 27. Details on a series of webinars and other information are available at FWUnitedFront.com.