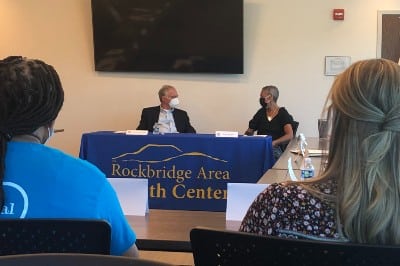 Medicaid expansion provides crucial resources to Virginia health centers
Join our Telegram channel to stay updated on the latest news coverage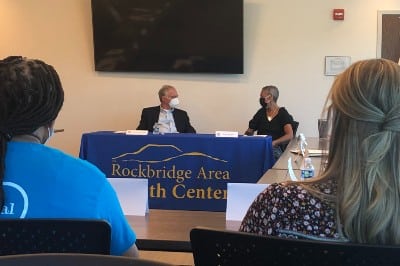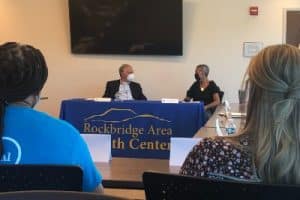 The Inflation Reduction Act will reduce prescription costs for Americans, but the expansion of Medicaid in Virginia has reduced health care costs for Virginians.
Sen. Tim Kaine hosted a roundtable at the Rockbridge Area Health Center in Lexington on Wednesday with patients and area health center staff to discuss the challenges health centers face on a daily basis.
"I want to hear from you all," said Kaine, a member of the US Senate Health, Education, Labor and Pensions Committee. "The work you do in local health centers is really important."
Kaine said the biggest issues in health care right now are subsidies under the Affordable Care Act, Medicare prescription costs and additional funding for the Black Lung Benefit program.
Senator Creigh Deeds was also present.
"We are partners on this attempt to create an opportunity for Medicaid expansion," Kaine said of Deeds.
Deeds said physical conservatism means you keep your people healthy and protect your workforce, and access to health care provides protection, including Medicaid.
Amanda Tomlin receives behavioral and dental health services as a patient at the Rockbridge Area Health Center. She began her recovery eight years ago from an opioid use disorder and attributes her recovery to RAHC.
"This whole setup is just amazing," she said.
Kaine asked if she had tried recovery treatment at other facilities and she said she had gone to Covington for help, but the doctors would only prescribe medication.
"It was the first place I found that was for the patient," Tomlin said. "And they are there for their well-being."
Brittany Ambrogi is pregnant with her fifth child. She moved to Lexington from North Carolina in 2014. She started coming to RAHC with her fourth pregnancy.
She receives health screenings, family planning, pregnancy, primary care, dental and behavioral health services at RAHC. Her children receive pediatric care at RAHC. Her previous pregnancy was high risk. Without RAHC, she would not be able to receive health care services.
"They've just been a wealth of [important resources]Ambrogi said of RAHC.
Her youngest son had jaundice when he was one week old and was treated with RAHC.
Kaine shared his story that his son also had jaundice a few days after he was born and a family friend who was a doctor encouraged him and his wife to seek treatment.
Lucy Strowbridge is a US Army veteran and receives medical and dental care at RAHC. A patient for six years, she previously worked at the health center for seven years. She retired a year ago and six months ago started working for Americare. Strowbridge said veterans cannot go to the Veterans Administration for dental treatment unless their service injury is dental-related.
Kimberely Slaughter, director of pharmacy for New Horizons Healthcare, spoke about the importance to Virginia of keeping 340B drugs available to underserved patients.
"What's so important about the 340B program is the ability no. 1 for people to get their drugs, but also the purpose of the 340 is that we make those savings, and we put those savings back in the center so that we can expand into dental care, women's health and open access," Slaughter said. "Keeping the 340B alive is critical for these patients who simply don't have access to it.
Kaine said U.S. Representative Abigail Spanberger is working on legislation to protect the 340B and that he will sponsor the bill in the Senate.
"We're going to do everything we can to make sure 340B is protected," Kaine said. About 2/3 of the committee supports the 340B and a small minority questions the importance of the 340B.
If 340B is lost in Virginia, Tracy Douglas, CEO of the Virginia Community Healthcare Association, said five or six health centers she knows of in the state should rethink service funding.
"It's very important for health center revenues," she said.
Another concern for health centers in 2022 is whether the public health emergency created by COVID-19 ends. Douglas said 450,000 to 470,000 beneficiaries in Virginia could lose their funding.
"We are required to see our patients. We are not going to turn away our patients, regardless of their ability to pay," she said of the health centers' dedication to treating patients. She said health centers want the flexibility to rethink funding and continue to help patients. "It's extremely important that we can continue to keep our doors open and provide the kind of services we need for you."
Kaine talked about the state budget.
"I think the support for [health centers] is quite bipartisan," he said. He feels "very optimistic about budgeting levels".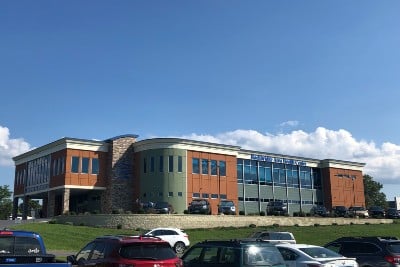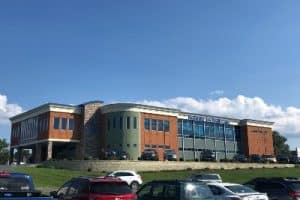 Telehealth during the COVID-19 pandemic has made health care accessible and convenient, and Kaine said the Senate understands that returning to life without telehealth is not an option.
Tish Amirault, CEO of Highland Medical Center, said that in Highland County, the medical center found that many patients did not have internet. The health center provided patients with iPads so they could sit in the parking lot and talk with doctors via telehealth.
"Our Medicaid patients love it, and they don't want to come back [to in-person appointments] because they are more comfortable in their own space," Amirault said. The Medicaid expansion allowed the medical center to provide iPads to patients.
Chelsey Tomlin of Johnson Health Center said providing audio-only service to patients was a helpful option.
Angie Martin said that with mental health patients, some cannot leave their homes due to depression. Telehealth offered an option.
"It's very important. It's changed our landscape of no-shows," Martin said. Patients aren't canceling appointments because they can telehealth with doctors.
AJ "Jay" Lewis II is a member of the Rockbridge County Board of Supervisors.
"We believe in the mission here and support the health center," Lewis said.
Lexington Mayor Frank Friedman said the health center was "a huge asset to the whole community."
"If you want health, maintain health," Friedman said.
Join our Telegram channel to stay updated on the latest news coverage