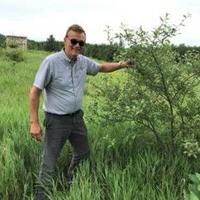 Presidential Field Forester Award: Browse, Burn, Heat |
The Society of American Foresters, which began in 1900, sets the standards in forest management, bringing together science, best practices and the best people to actively shape the future of the profession. In the Michigan Society of American Foresters, there are 415 members that span state, federal, industry, consultants, academia, and of course, conservation districts.
Larry Czelusta, Forestry Assistance Program Forester for the Missaukee and Wexford Conservation Districts, is a member of this professional organization. What does it mean? He and other members realize that the health and use of forests is of vital importance to society. They know that as foresters, they have a technical and advisory role to play as spokespersons for these resources.
Larry received a well-deserved honor this year when he was recognized as having had a significant impact on forestry in the United States. In September, he received the District 5 Presidential Field Forester Award, which covers Michigan, Iowa, Minnesota and Wisconsin, at the SAF National Convention in Baltimore, MD. This award recognizes foresters who have dedicated their professional careers to the application of forestry in the field using sound scientific methods and adaptive management strategies.
If you've ever hosted Larry at your property to do a site visit, identify an insect problem, or help you achieve the goals you've set for your property, you know how deserving he is of this award. Please visit our website at www.missaukeecd.org/forests to see a brief YouTube video of her reaction to receiving this national recognition.
The Michigan Society of American Foresters (MSAF) occasionally issues position statements. They have released statements on white-tailed deer, fire management, and wood-based thermal energy. He "stepped up" to advocate some potentially unpopular directions to help improve the health and future of forests. Each position statement brings a wide range of scientific knowledge and centuries of collective experience in the field. The following is a summary of each position statement by retired MSU forester/biologist Bill Cook. You can find the full position papers at www.michigansaf.org.
The MSAF says most Michigan forests have long suffered from the negative effects of deer on browsing. This concern dates back at least to the 1960s. However, the snowbelt along Lake Superior is a major regional exception.
Deer are efficient browsers with distinct food preferences. Favored plants, including most tree regenerations, struggled. Less favorable plants, including exotic species, gradually took up more space on the forest floor. It is naturally difficult for most people to see what is not there but should be. But much of our forest lacks valuable components, due to deer pressure.
These compositional changes have resulted in altered forest structures and functions, often acting in concert with other factors, such as invasive species and climate change. There are other drivers in forest systems, but deer are the "elephants in the closet".
In the second position statement, wildfires and prescribed fires have been part of the Lake States forests for centuries. Some of our forest systems are adapted to fires, and some of our forest management systems mimic these events. However, there are some functions that fire can provide better than other tools.
The main problem with prescribed fires and wildfires is the ever-increasing presence of people in the woods or, more specifically, in their homes and structures. Protecting buildings consumes more money for suppression, at the expense of more forest control and protection. Prescribed fires present increasingly difficult challenges with nervous neighbors and smoke management. The forest suffers from this urban sprawl and "urban splashing".
The third position statement promotes the huge potential for deploying existing advanced technologies for heating and cooling. In Michigan, approximately 40% of energy expenditure is devoted to thermal energy.
The use of wood, especially for "district energy" systems, is quite efficient, very clean, has stable prices, is locally sourced, and has plenty of room for expansion while improving values forest resources, both monetary and non-monetary. Natural mortality consumes more Michigan timber volume than harvest. Some of this volume of wood, once destined for mortality, could be redirected to thermal energy, with great benefits for humans and forests.
However, the real advantage of wood-based thermal energy is the substitution of fossil fuels.
Burning wood releases more carbon dioxide than fossil fuels, but that's not the main problem. What matters is that burning wood displaces the consumption of fossil fuels.
Wood-based carbon was recently extracted from the atmosphere and is part of the Earth's natural carbon cycle. Carbon emissions from wood, in a simplified description, go back into the trees. Fossil carbon comes from outside the natural carbon cycle and it is this imbalance that is causing so much turmoil with climate change.
If society wants to curb climate change, forests are an important part of the equation. Much of the wood harvested is stored long-term, such as buildings and landfills. Harvesting and using wood creates more opportunities for increased carbon sequestration and uses far less processing energy than any other raw material (another carbon benefit).
New forest absorbs even more carbon, especially among middle-aged forests. Today, a clearcut stand of aspen will reach its maximum sequestration rate around the time climate models reach their most critical point. This could be a good time, for those thinking longer term strategically.
The Michigan SAF is one of the major associations that represent forests and forestry. It is part of the national professional society, rooted in science and practice, which dates back more than a century. You can find the positions on michigansaf.org.
Sherry Blaszak is the director of the Missaukee Conservation District. Bill Cook, retired MSU forester/biologist, contributed to this article. For more information, contact Sherry at (231) 839-7193, [email protected] or stop by the Missaukee Conservation District Office, 6180 W. Sanborn Road, Lake City.