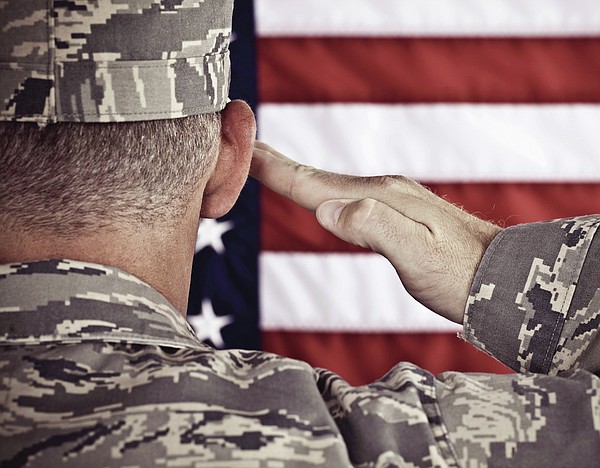 SALUTE TO VETERANS | Resources for veterans
CRISIS HOTLINE
Dial 988 and press 1
UNITED STATES DEPARTMENT
VETERANS
The federal Department of Veterans Affairs provides access to various services for veterans through its website, www.va.gov. Among them —
• Veterans Health Administration, 1-877-222-VETS (8387)
• Veterans Benefits Administration, 1-800-827-1000
• National Association of Cemeteries, 1-800-698-2411
• Congressional Affairs, 1-202-461-6490
ARKANAS DEPARTMENT
VETERANS
The department provides information specific to residents of the natural state on its website, www.veterans.arkansas.gov. The benefits listed on the website include —
• Homestead and Personal Property Tax Exemption: Disabled Arkansas veterans who received special monthly compensation from the Department of Veterans Affairs for the loss or loss of the use of a (1 ) or more members, for total blindness in one (1) or both eyes, or for one hundred percent (100%) service-related total and permanent disability shall be exempt from payment of all state property taxes family and personal property belonging to the disabled veteran. Surviving spouses, as long as they remain single, and dependent children, during their minority, retain this right. The entitlement is also available if the veteran was killed or died in the course of military duty, is missing, or died of service-related causes, as certified by the Department of Veterans Affairs. If the subsequent marriage is terminated, the surviving spouse may be reinstated. In all cases, annual recertification of continuing entitlement by the VA is required. In all cases, annual recertification of continuing entitlement by the VA is required.
• Arkansas State Parks: The Arkansas Department of Parks and Tourism offers Arkansas resident veterans, who are on lifelong service connected to a 100% disability rating, the opportunity to camp for half price in Arkansas state parks. 100% proof of status is required. For veterans, this must be a copy of the award letter (dated within the last two years) from the Veterans Administration regional office or an Arkansas license plate with the letters DV. The seniors and disabled discount does not apply to winter rates or Rent-A-Camp options.
• Educational Benefits: The Arkansas Department of Higher Education has the authority to provide free tuition and fees at any state-supported college, university, technical school, or vocational school; to the spouse and children of any Arkansan who has been declared a prisoner of war or placed missing since January 1, 1960. The same provisions apply to the surviving spouse and children of any Arkansas resident killed in action since 1960. The Arkansas Department of Education is located at 4 Capitol Mall, Little Rock, AR 72201, phone 501-682-4475.
The Arkansas Department of Veterans Affairs can be reached at 501 Woodlane Drive, Suite 401N, Little Rock, AR 72201. Call 501-683-2382 or 501-683-1787 for more information.
TEXAS VETERANS COMMISSION
The department provides specific information for residents of the Lone Star State on its website, www.tvc.texas.gov. Benefits include —
• Mental Health: The Veterans Mental Health Service works to ensure access to competent mental health services for members, veterans and their families. VMHD accomplishes this task by providing training, certification, and technical support throughout Texas. In addition to connecting veterans in need directly to local services, VMHD also works with partners at the national, state, and local levels to address veteran-specific issues, including suicide prevention/intervention, veterans' homelessness, military cultural competence, peer support services, the military. -related trauma, women and rural veterans, and the involvement of justice.
• Education: The commission helps veterans access benefits – state and federal – to supplement payment for their education, such as through the Hazlewood Act. The Hazlewood Act is a state benefit that provides qualified veterans, spouses, and dependent children with an education benefit of up to 150 hours of tuition exemption, including most tuition , at public institutions of higher learning in Texas. It does not include living expenses, books or supply costs.
• Citizenship: The commission strives to help qualified veterans acquire US citizenship. "Each year, thousands of foreign-born service members, veterans, and their families become naturalized U.S. citizens. Active duty service members, veterans, and their dependents may be eligible. Surviving members of families of deceased U.S. service members and veterans may also be eligible," the commission says on its website.
For more information, write the Texas Veterans Commission, PO Box 12277 Austin, TX 78711-2277, or call 512-463-6564.