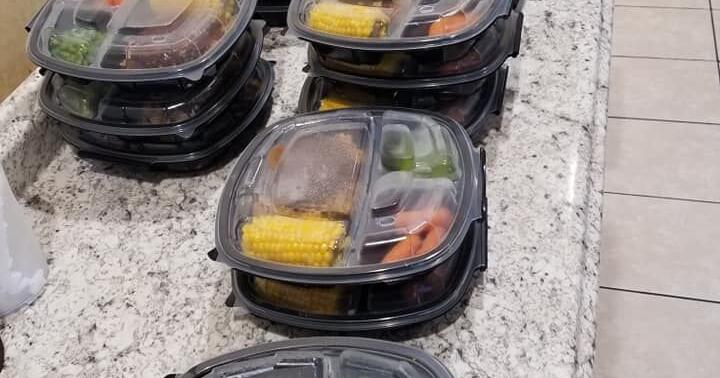 Two seasonal resources operating for the homeless in Madison County | Community
Sierra Marlin
The community has been focused on helping the local homeless population in recent years, especially in the freezing winter temperatures. With so many Madison Countians going without, many are also wondering what is being done to remedy the situation.
Currently, there are two emergency shelters in Madison County.
These non-profit organizations are run entirely by volunteers and provide assistance to those who need it most throughout the county.
Madison Home Inc. focuses on providing service throughout Madison County, while Room in the Inn-Berea is a more localized solution.
"Homelessness is not a responsibility of the police department, or our prisons, or our emergency rooms. It's a community responsibility," Madison Home Inc. executive director Melissa Slone said.
The manager insisted that this problem is not going away, saying: "The need is growing here. It's clear when you come out of exit 90. You see these tents on the exit ramp. The need is growing. We see homelessness in a way that we have never seen in Madison County before.
According to Mary Katherine Stinson, Vice Chair of the Board of Directors of Room in the Inn-Berea, South Madison County is underserved when it comes to options for those experiencing housing insecurity.
"It can be difficult for local homeless people to access services and providers in Richmond. It is vital that we maintain access to services for the homeless in Berea. We are honored to continue to fill the void," Stinson said.
The two 501©3 organizations have removed a persistent barrier preventing homeless people from receiving help by not requiring identification to use their winter shelter services. However, those seeking shelter are encouraged to come early, as rooms are first-come, first-served and capacity is limited.
Madison Home Inc.
MadisonHome Inc. facilitates cooperation and coordination between churches, civic groups, service providers and volunteers to provide essential services to prevent and alleviate the burden of homelessness. The organizations provide a variety of services throughout the year at 105 Fifth Street in Richmond, Kentucky, including peer support, case management, spiritual services, and therapy. These services are also available during their winter lodging season.
Last year, they provided housing for 139 people, paid for 5,000 donated meals and coordinated the employment of 14 people over a period of 91 days.
MadisonHome Inc.'s winter shelter season will run from December 15 to March 15, 2023. Those seeking shelter should check in at 5 p.m. at 105 Fifth Street in Richmond. Volunteers will conduct background checks to ensure the safety of all guests during dinner, and then attendees will be transported to the night's participating church. Guests will leave with a breakfast and bagged lunch.
The general manager pointed out that volunteering at Madison Home is not the same for everyone and that there are many ways to get involved.
Ways to serve Madison Home include donating professional services for the renovation of their future headquarters and service space, overnighting with guests at local churches, donating winter clothing and tents, and creating community partnerships to help those in need. Slone also encourages any employers or landlords who want to "give people a chance" to contact her at (502) 771-5277 or [email protected]
Those wishing to make a tax-deductible monetary donation can either do so in person at their physical location, through online payment methods on their website, or by mail to PO Box 1043, Richmond, KY 40476.
Room at the Auberge-Berea
This program has been providing seasonal shelter since January 2019. Over the following seasons, they have seen steady growth. During their last season, which lasted 90 days, 141 people received emergency shelter through this program and approximately 2,540 meals were provided.
This season they have partnered with Motel 6 in Berea to provide limited emergency shelter from January 2 to March 15. Those wishing to register for a room should come to Union Church from 5:30-6:00 p.m. for a meal and to register with the volunteers. Guests undergo a background check before being approved for hosting to ensure the safety of others. There will also be opportunities to meet with a social worker for case management services through an ongoing partnership with the Clark County Homeless Coalition.
Transportation to Motel 6 will be provided by the organization, but guests are responsible for leaving upon departure the following morning, as rooms are assigned in first come first served each night. However, guests will leave with breakfast and lunch.
Their most basic needs include help with transportation, meals and cash donations, but volunteers can also meet a variety of other needs.
Those interested in volunteering with Room in the Inn-Berea can sign up for opportunities through their meal train (https://www.mealtrain.com/trains/k0yrvr), email them to riti. [email protected], or make a tax-deductible donation via PayPal ([email protected]) or mail to PO Box 1450 Berea, Kentucky 40403.
United Way of Bluegrass 2-1-1
Help is available for those in need this holiday season, and finding resources has never been easier. United Way of the Bluegrass 2-1-1 has an online resource that makes it easier than ever to find services in your area. Call 2-1-1, text your local zip code to 898211, or visit their website (https://uwbg211.org) if you have an unmet need, from utility assistance to clothing.