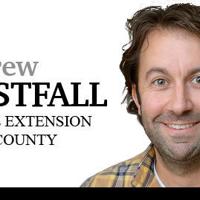 WESTFALL: Flood resources available for homeowners | Agriculture
Heavy rainfall, melting snow and saturated frozen ground lead to predicted flooding across the region as I write this.
I hope this article provides helpful resources from Purdue Extension on floods and steps towards flood recovery. Much of this information is online, so if you have any problems with the link or accessing the information or have any other questions, please contact our office at 219-984-5115 or email awestfal @purdue.edu.
There's a lot of information here, so I encourage you to visit the websites for in-depth explanations.
If you have been affected or know someone affected by the floods, I recommend visiting https://www.extension.purdue.edu/floodpub. Here you will find short and long term information on flood recovery.
Once family and neighbors are safe, it may be time to think about things like: how to safely re-enter flood-damaged buildings, caring for pets, and tips on recovering souvenirs and furniture.
You will also find information specific to your home such as: what to do with appliances, carpets and flooring, wall panels and insulation.
It's also very important to assess damaged food (if in doubt, throw it out as flood waters can contain bacteria) and consider how your drinking water might be affected, as wells can also flood.
The link contains information on testing well water and how to disinfect it (if necessary). Finally, here you will find important information about relationships with insurance companies as well as contact information for other government and community agencies that may be available.
If flooding is widespread, federal and state disaster assistance may be available. This may include funds to repair damaged homes and replacement grants for severe disaster-related needs and expenses not covered by insurance.
Other assistance may include free legal services, crisis advice, and personal and business loans may also be available. Information on which counties are eligible for assistance and how to file a claim would be available from your local emergency management office, if available.
For the latest weather information in your area, continue to monitor the National Weather Service at: www.weather.gov.
Other helpful information can be found by calling the EPA Well Care Hotline at 888-395-1033 and the Food Safety Inspection Service Hotline at 888-674-6854.
Andrew Westfall is director of Purdue Extension White County (Ind.).