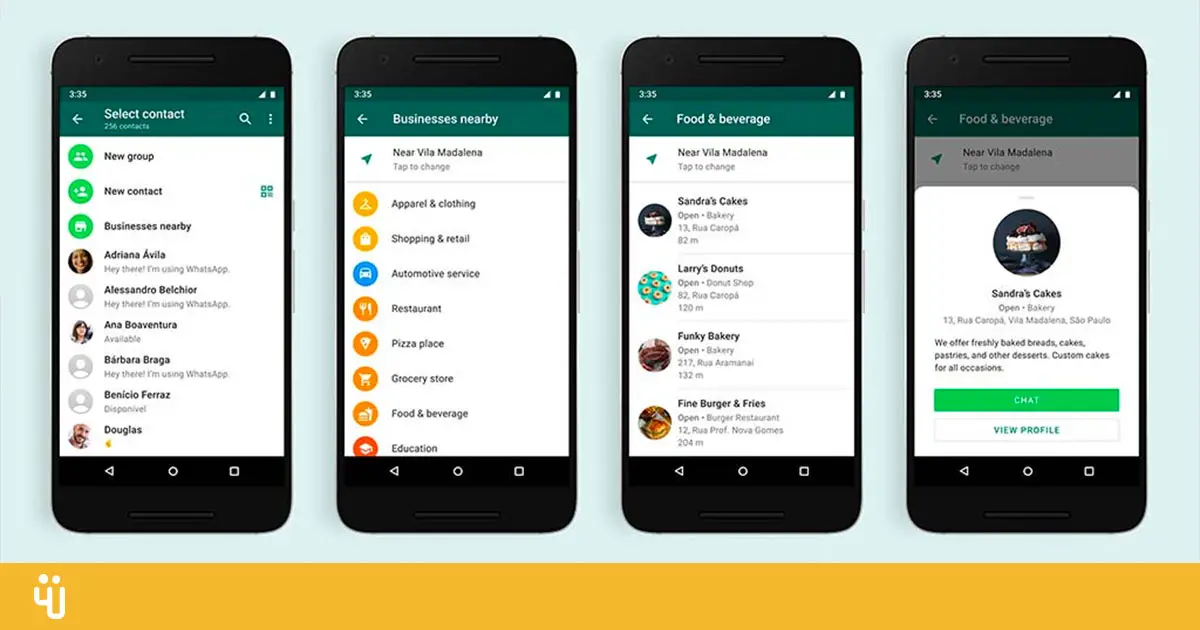 WhatsApp begins testing an in-app local business directory
WhatsApp is piloting a new feature that lists local small businesses in a searchable directory for users looking for local businesses and services.
In a Tweet last week, WhatsApp chief Will Cathcart announcement that the company is piloting a new business directory feature that allows users to find local stores and services on the app. The pilot program is expected to begin experimental launch in Sao Paulo, Brazil.
Related | WhatsApp will soon allow you to hide your online status from certain contacts
The announcement posts screenshots of the upcoming directory, which show how WhatsApp will sort " Shops nearby " by category. As mentioned in a recent Reuters report, the company will list thousands of businesses in the Brazilian capital – the first time WhatsApp has offered users a way to search for local businesses in its app.
We're launching this in São Paulo, home to millions of small businesses. For those who aren't in São Paulo to try it out, here's what it looks like: pic.twitter.com/cMu9DwlUYw

— Will Cathcart (@wcathcart) September 15, 2021
In recent years, the Facebook-owned messaging service has seen significant growth in the popularity of its business account service, with WhatsApp Business accounts reaching 175 million daily users globally last year.
Since launching the standalone app in 2018, the messaging company has increasingly refined the experience, expanding support for product catalogs, shopping carts, and even in-app payments in select countries.
However, the growth of the service has also led to the controversial and much-criticised update to the privacy policy earlier this year, where the updates were interpreted as pulling information from peer-to-peer discussions on the app, by opposition to conversations with companies.
It is probably in the light of these events that Cathcart States in the announcement that WhatsApp does not record users' location or the businesses they browse when using the new directory feature.
The pilot program is currently limited to the city of Sao Paulo in Brazil – although the company says India and Indonesia could be the next potential candidates for future expansion of the feature.
you might also like
---
More WhatsApp
---
WhatsApp will automatically hide your online status from strangers
Posted on December 16, 2021


0
WhatsApp becomes more private by showing your online status only to your existing contacts, or those you've chatted with…
WhatsApp begins testing cryptocurrency payments in the US
Posted on December 13, 2021


0
Whatsapp has launched a pilot program to test the possibility of sending and receiving instant payments with a simple chat…
Spotify is testing "Discover", a new TikTok-like video stream
Posted on November 30, 2021


0
Spotify reportedly introduced a TikTok-like vertical video feed with music video songs in a new dedicated Discovery tab.
WhatsApp starts allowing users to create personalized stickers
Posted on November 30, 2021


0
Last week, WhatsApp beta users spotted a new feature in the app that allows them to create custom stickers on WhatsApp…
WhatsApp Building Mac Catalyst App for iPadOS and MacOS
Posted on November 22, 2021


0
The Meta-owned messaging platform is reportedly working on a new app for iPadOS and MacOS using Mac Catalyst.
WhatsApp now lets you connect up to four devices to a single account
Posted on November 9, 2021


0
WhatsApp will now allow users to link up to four iOS or Android devices to a single account without compromising privacy.
WhatsApp offers cashback for UPI payments in India
Posted on November 8, 2021


0
WhatsApp is reportedly offering users a cashback promotion to start making person-to-person payments on WhatsApp Pay.
You can now migrate your WhatsApp chats from iOS to your Pixel phone
Posted on October 31, 2021


0
Google has announced that you can now easily migrate your WhatsApp chats from iOS to your Pixel and Android 12 smartphones.